NintendoTime's E3 2018 prediction discussion quickie!
It's that time of year again "Gamer Christmas" as it's become known, E3 2018, so what's in store for Nintendo?
The Electronic Entertainment Expo is always an exciting time of year and a busy one for video game based websites such as NTime.
Nintendo has made their presentation time and premise known (mainly showing and talking about Super Smash Bros. Switch) but obviously that won't be all we see come June 12 9AM PT (13th June 2AM AEST) so the NintendoTime team has some speculations on what we will see!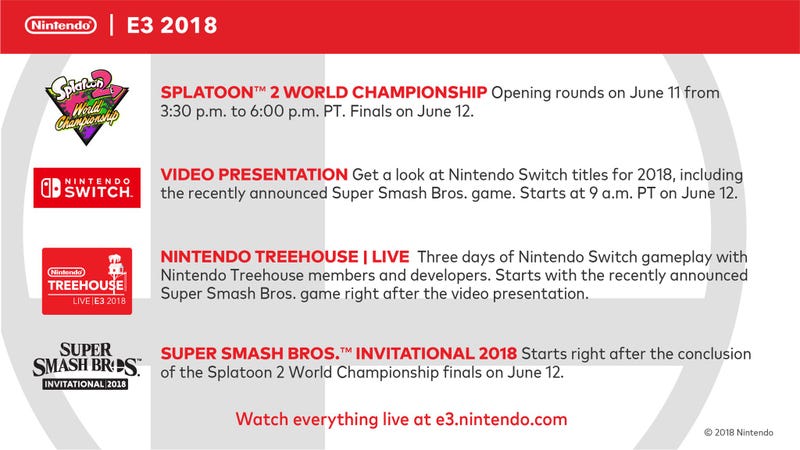 Image: Nintendo's 2018 E3 Schedule
Editor – James Burt "Pretty sure we are due an Animal Crossing at this point, pretty keen to learn more about Pokémon Let's Go series and see if the rumours are true about Fortnite on Switch, also Shrek for Smash (Joking)"

Writer – Matt Jonas "Well, it's kind of obvious what's going be there. Smash Bros, Metroid 4, Bayonetta 3, Pokémon Let's Go. I'm also hoping for a Metroid Prime Trilogy Port or Remake for Switch, also Goku for Smash however unlikely that is"

Writer – Jayde Burt "Animal Crossing for Switch has to be there or I'll cry, hoping to see a port of Xenoblade Chronicles X for Switch, keen to see anything on Bayonetta 3, also Rex & Pyra for Smash"
What do you think will be shown at E3 this year? Leave a comment below with your own predictions.